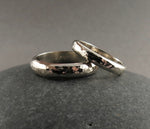 We are excited to share that Mikel Grant Jewellery has a feature article running in the current issue of ZOOM magazine.  ZOOM is a beautifully curated magazine that features all things Sunshine Coast.
We enjoy sharing our story to demonstrate how, what and why we do what we do and this feature is a great opportunity to do just that!  We are dedicated to kindness and integrity and these principles guide how we live our lives and how we operate our business and craft.  We hope to empower and inspire others to live their best lives as well.
Featured photos in this article include pieces from our brand new Stars & Moons Collection as well as our Sweethearts Collection, some of which you will only find here in our store.  In this lovely layout displaying Zoom's normal standard of excellence, other featured pieces include our intricate and symbolic Large Love knot, everyday Twist Hoop Studs and naturally inspired Organics Earrings.
 

This is ZOOM's annual wedding edition so it is an honour for us to be featured.  And a great opportunity to share our beautifully modern custom wedding band sets in hand hammered 14k white gold.  These wedding bands were inspired by the idea of creating something familiar, yet not common.  A stunning stand-out of a set that we are happy to offer in silver or gold, providing a place for every budget without sacrificing the quality or integrity of such an important symbol.  There is no way to over-emphasize the importance of such a symbol and there is no more well understood or meaningful way to tangibly represent our love and commitment to our partner than with a ring crafted with great care and attention.  Our wedding and commitment rings are worn with comfort, given with pride and made with kind intention.
Here's what one happy client had to say:
"I couldn't have better things to say about our wedding bands.  Mikel was so friendly, and her work is absolutely amazing." -Crystal G.
Please contact us with your wedding and commitment ring needs.  We are happy to work with you to create your own symbol of commitment and achieve your vision on time and on budget.
Cheers!