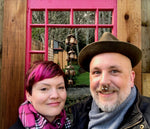 Welcome friends!  Welcome to our newly launched site for Mikel Grant Jewellery.  We hope you will make yourself at home here, get to know us & our story, find a treasure and feel inspired.
To our dear clients and supporters let me say thank you.  Your continued support over the last 20 years has made my dream a reality  My dream to find my own path, to forge ahead, to bring beauty into this world and to inspire.  The drive to be a maker, to design and create is at my very core and I am deeply grateful that I get to do this. 
For our new guests and those who do not know our story, Mikel Grant Jewellery began in 2000 as a creative outlet following seven years of studying science (and other various things) at university.  After graduating with a degree in biology I quickly realized this pursuit was not fulfilling and I followed my heart into learning the craft of metalsmithing and jewellery design.  That was twenty years ago and I have never looked back.  Except to see where this journey has taken us.
Seeking a slower pace of life, we left the intensity of the city six years ago and moved to the beautiful Sunshine Coast of BC.  We created a unique work/live space nestled in the wild, quiet of the Pacific Northwest.  This is where my partner Kelly and I hand craft our jewellery with the help of our small team.   I'm on the left side of this picture by the way.  People often get our names mixed up.
We are dedicated to bringing high quality, handcrafted jewellery to you.  We strive to be inclusive so we offer a range of prices that welcomes everyone.  The emptiness of mass production is countered here with kindness, integrity and thoughtful intention that you can see and feel in every piece we make.
We are excited about our shared future and look forward to expanding our online store to better serve you and your experience here.
Cheers!