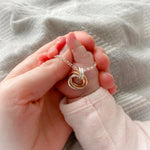 A new birth is a cause for profound celebration and joy.  Family and friends come together to provide a sense of community and rejoice with new parents.
Traditionally, baby showers focus on gifts that will help new parents care for their new child with clothing, furniture, toys and the like.
More recently "push" presents have become a popular way to recognize, celebrate and honour Mom.  This sweet tradition of push presents began in the 1990s.  A push present is given to acknowledge and appreciate the act of literally pushing out a baby.
THE PERFECT PUSH PRESENT
Our Love Knot Necklaces are the perfect push gift for a new mother: a beautiful and meaningful representation of her new family.  Individually handcrafted with care and intention, these necklaces represent connection, protection and the eternal nature of love.  With no beginning and no end, the infinite knot keeps us symbolically connected to our loved ones.  
CUSTOMIZE YOUR LOVE KNOT FAMILY JEWELRY
Custom made, these intertwining necklaces can have as many rings as you desire, to represent each member of your family.  Handcrafted in sterling silver or solid gold, or a mix of metals, these necklaces will last a lifetime and will capture her heart.
We love creating symbolic & meaningful jewellery to represent your story.  These future heirlooms will only grow with meaning over time.  
LAURA'S STORY
Laura from Ontario contacted us to help create a fine piece of jewellery that would represent her new family.  We worked with her to design and create a gorgeous silver, yellow gold & rose gold love knot necklace that she cherishes.   Here's what Laura had to say about her experience:
"This piece of jewelry was created to celebrate the birth of our first child. The design of 3 interlocking rings is known as Russian rings which, for us, is a representation of my husband's background. The significance of the 3 rings in this pendant represents the 3 of us as a new family. I love that the rings are also like the letter "O" for our daughter's name, Olessia. I had been on the search for this Russian ring pendant design but could not find exactly what I was looking for. I came across Mikel Grant Jewellery and decided to reach out to see if I could have this dream pendant created. Mikel was so wonderful and made this pendant even better than I had imagined it! It's such a sturdy, high-quality piece of jewellery that will be in our family for many years to come and one that I will be able to pass down to our daughter. What I loved so much about working with Mikel Grant Jewellery is that it was such a personal experience. Mikel was so helpful in suggesting ways to make the design just perfect and was very informative about the process. I loved being a part of the creation and felt very included in the process. I have never had a piece of jewellery custom-made before so I did not know what to expect, but this experience exceeded my expectations."
Laura was kind enough to send us this darling picture of her and Olessia holding hands with her new custom made necklace.
We would love to help you create a piece that will capture your family's story.