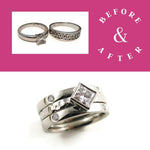 Jewellery redesign is something we love to help our clients with!  
The heirloom jewellery that we inherit from our loved ones is full of stories, memories and meaning.  However, these are not always pieces that we can or want to wear.  A fresh new design can transform these cherished pieces into something that you love to wear and allows the story to continue in a new way.  
How many of us have that single earring that's been sitting in our jewellery box forever because we can't bear to part with it?  These orphaned and broken pieces can be reworked into something beautiful and wearable again.
Sometimes the jewellery you've been given or chosen for yourself just simply doesn't suit you anymore.  You need a jewellery makeover.
So whether it's inherited, orphaned, broken or unloved, you can reimagine your jewellery pieces and give them a new life with purpose.  
We can help you.
HERE ARE OUR TOP THREE WAYS TO REPURPOSE YOUR JEWELLERY
And examples of reimagining we have worked on with our clients.
1) REPURPOSE YOUR GEMSTONES

 

Jody came to us with a special amethyst that she had been hanging onto for a very long time.  We were able to remove the amethyst from its old setting and create a brand new ring with it.  Her new ring features a lovely, modern mixed-metal look with a 14K gold bezel around her amethyst and a sterling silver split-shank ring band.  Jody also brought us some old gold that we recycled and this paid for her new ring!  
Here's Jody's story in her own words:
"So...The ring was made from a pair of amethyst earrings, set in white gold with a circle of small pearls surrounding the stone.  They were given to me by my mom when I was approximately 13 or 14.  A troubling time for me as a teenager.  They were one of my mom's finds and they were beautiful.  I was thrilled she had entrusted them to me, being that I was such a rebellious and untrustworthy teenager!!! I promptly lost one of them in some escapade I was on...the guilt remained with me for many years as did the lone earring whose pearls began falling off with time.  Fast forward to February 2022 and my mom was now living with me.  She came reluctantly after my Dad passed away in June 2020, as she was no longer safe to live on her own.   After a visit from my daughter where she had questioned the logic of me hanging onto all the old broken jewellery and bits of gold (all from the finds mom had given me over the years), I began searching for ways to use the gold bits and/or gemstones I had been saving.  I found Mikel Grant Jewellery online.  It made a great deal of sense to make inquiries to Mikel and Kelly as they are a Sechelt based company and that was where my mother's and father's house was located; my brother was living there after mom had to leave.  So the jewellery making journey began!  Mikel and Kelly were very gentle tour guides who walked me through the process with a great deal of care and an even better sense of humour!  In the end I was delivered the gorgeous ring which I treasure sooo sooo much now.  My mother was able to see the ring before she passed away in April 2022.  I am so very grateful for the full circle the ring represents in so many different ways, but especially in the way it keeps my mother, who I adored, close to me in the form of the story filled ring.  Thank you Mikel and Kelly."

John came to us with a set of rings that his wife Kelly wasn't in love with.  They just weren't quite her style and she didn't find them comfortable so she never wore them.   We worked with John to reimagine this set without her knowing so that he could surprise her with brand new rings.  We re-used the diamonds and gold from the old set and designed a brand new trio featuring a comfortable, modern stack of three bands that she never takes off!
"Well...the big reveal was awesome!  Kelly loved the new design and was completely touched!"
                                                                            -John S.
2) REPURPOSE YOUR GOLD

 
Suzanne knew she wanted to surprise the love of her life with a ring but couldn't find anything in the stores that would fit Barry's size 15 finger.   She came to us to see if we could help and we worked with her to create a very meaningful ring for her soon-to-be husband.   
Suzanne is a jewellery collector and second generation gold prospector and has always invested in jewellery but had some pieces that she didn't like or wear.  We were able to recycle this old gold which completely paid for her project.  She was also able to sneak out an old ring of Barry's that had belonged to his grandfather: a banged-up old signet ring with sentimental meaning but something he wasn't wearing.   We were able to melt down the gold from this ring and cast it into a brand new ring that maintains the connection to his grandfather.  
When she surprised Barry with his new big gold ring he was overjoyed. 
We wish them a lifetime of happiness & love.  
Serena came to us with a bracelet she had inherited from her father.  This bracelet was loved and well-worn but broken and not really right for her as a bracelet.  We were able to turn this bracelet into two chain rings that Serena can wear daily.  We also used some of the gold from the bracelet to create two solid gold heart charms for Serena and her aunt so that they can carry something of him with them always. 
3) DON'T CHANGE A THING
Some pieces of jewellery carry a lifetime of stories and you may want to keep them just as they are while wearing them in a different way. 
Rosalie knew she wanted to wear Bob's wedding ring close to her heart after he passed away.  The ring isn't perfectly round-it's worn and misshapen, it holds the stories Bob left in it so we left it exactly as it was.   We simply added three small gold rings around his wedding ring so that it can be worn on a chain around her neck.   
 We're truly honoured to be a part of the creation of jewellery pieces that carry so much meaning.  
If you've got a project in mind we'd love to help you continue the story!