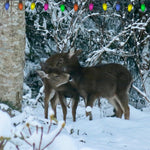 We wish you a healthy, happy & peaceful 2022.
Do you make New Years resolutions?   If you do, I'm sending you my sincere hopes that you achieve your goals & that they improve your life.   Personally, I've found, like so many others, that I would keep up my resolutions for a while & then drop off & feel a bit bummed out about that so I've adopted a new tradition (that some of you may have read about last year).  
I like to start the year by doing a little bit of everything that I want my year to contain. 
One of my favourite things to do is get outside & be in nature for a while.   I find being present in nature shifts my perspective & feeds my soul in a deeply meaningful way.  We are very lucky to be surrounded by an abundance of wildlife & natural beauty here on the Sunshine Coast so I never have to go far.  
And while I'm still enjoying some rest & relaxation after a busy season, I'll also spend a bit of time in my studio, my happy place.   I'll gather up some of the pearls, gemstones & metals that are calling to me & let new ideas start to form.  I always enjoy this somewhat mysterious process.  
I hope you are doing some things today that bring you joy & peace & I hope 2022 is a better & brighter year for us all💗