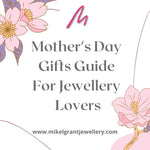 Looking for a meaningful gift that will last a lot longer than flowers?  Treat the amazing moms in your life with a piece of meticulously handcrafted jewellery and show her your love and appreciation.  We've created designs to delight your mom, daughter, sister, wife, bestie or girlfriend in our
💞
Happy Mothers Day Gifts Guide

💞

 
Pearl jewellery creations for the mom who's a modern classic.   
Pearls are the perfect mothers day gift idea for the woman who loves an updated classic.   Pearl jewellery is timeless and our handcrafted artisan creations are sure to delight her. 
Stay connected with handcrafted love knot jewellery.
Widely
 regarded as symbols of love, connection and protection, love knot jewellery spans time and culture.  The interlocking rings represent an eternal bond; you are independent, yet forever connected.  The love knot is a tangible reminder of the love you carry in your heart.
West coast beach inspired artisan jewellery for moms who favour laid back style.
Inspired by the weather-worn shapes of our west coast beaches, this collection was designed to connect her to that feeling of ease, of carefree days wandering the shoreline.  
Give her a reminder to slow down, to coast a little.
One of a kind jewellery designs for moms who rock their own unique style.
Contemporary artisan jewellery pieces that celebrate her independent spirit.  Inspired by the colours and shapes of our hand selected gemstones, each of these designs are crafted by hand with love and intention.   Tell her you love her uniqueness with jewellery that is as one of a kind as she is. 
Heart shaped jewellery for sentimental moms.
Give her a lasting reminder of your love and affection with these sweet heart shaped jewellery pieces.  
Handcrafted jewellery for under $100.
Individually handcrafted jewellery at an easy-to-gift price.
Let her choose with a Mothers Day Jewellery Gift Card.
Still not sure what she would love best?  Why not give her the gift of choice with a digital gift card that never expires!
Don't miss out on new collections, one of a kind pieces & upcoming event info: join our inner circle members today!