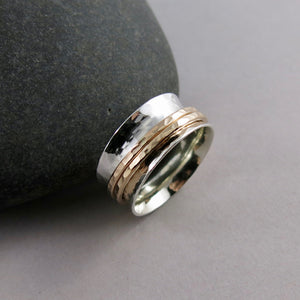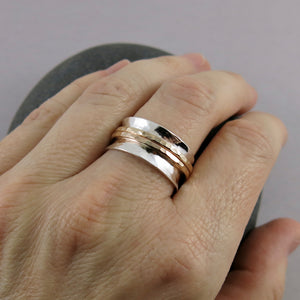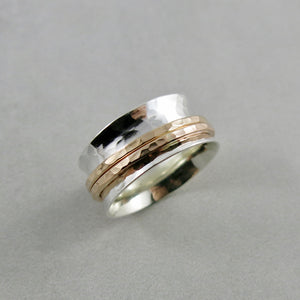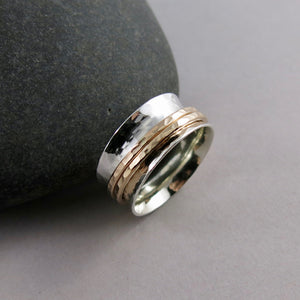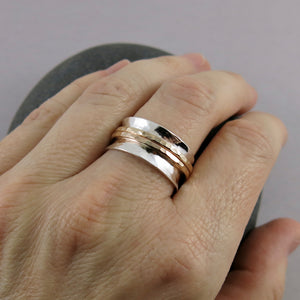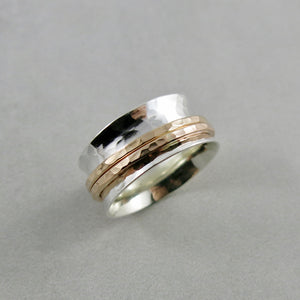 On Sale
Silver & Gold Meditation Ring • Hammer Textured Silver Band with Double Gold Filled Spinners
Meditation rings are used as a powerful reminder to stay present.  With links to ancient cultures including the Tibetan prayer wheel, meditation rings are a wonderful tool for calming an anxious mind.
Spin the bands as a reminder to stay present or to set an intention while spinning them and return to this intention in times of stress. 
This meditation ring, with its hammer textured band in sterling silver and two rotating gold spinning rings is our spin on a classic design, also known as fiddle, fidget or spinner rings.
Elegant and comfortable, with all hand made components. 

Handcrafted with love and positive intention in our little Sunshine Coast studio in Sechelt, BC.
Product Details:
•This ring is made to order.  Will ship within 7 business days of ordering.
•Sterling silver & 14K gold fill.
•Ring measures ~3/8" (10mm) in width.