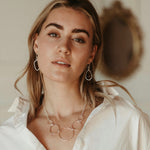 Are you someone who couldn't care less what the latest celebrity du jour is wearing?  Maybe you occasionally buy something that is trendy, but ONLY because you fall in love with it and it suits your personal style already?  Personally, we've never been ones to follow trends and as artists and metalsmiths we want our jewellery to be timeless. 
We want you to be able to wear your Mikel Grant Jewellery all the time, not just for a season or a year.  
So, we're laying out the trends you're going to see this year that you won't regret buying come next year!  Make sure you scroll down to see the last & most important one of all😉
1) BIG HOOPS
Big hoops are trending this year.   We love hoop earrings in general because they are so versatile.  Our hoop earrings are lightweight so you can wear them all day.  You can dress them up or down and they don't look out of place at the beach, at work, out for an evening or just shopping on the weekend.  Big hoops look great with long or short hair.  Create a fun & bold look with a fabulous pair of big hoops!
2) SILVER
Silver in general is going to be a trend this year and you're going to see lots of chunky designs on the runway & in magazines.  We've always loved the cool tones of silver and the feel of a weighty silver ring, bracelet or necklace, like a beautiful security blanket.  Silver is a wonderful metal to wear, a high quality precious metal that is also far less expensive than gold.  Chunkier designs are a great fit for silver due to its affordability.  Silver is also perfect for everyday as well as special occasions so you really can't go wrong with it. Plus, true sterling silver will not flake or permanently change colour and any tarnish your sterling silver acquires can be easily cleaned away.
At Mikel Grant Jewellery we only use nickel-free .925 sterling silver in our designs.  Nothing is plated or silver-filled.
We don't subscribe to the notion that different skin tones look better in certain metals so don't worry about whether silver "suits" your skin tone.  If you love silver, wear it!
And don't be afraid to mix metals.  Silver, and especially oxidized silver, looks wonderful with gold.  Layering & mixing metals creates a stylish signature look.
 3) BANGLES
Bangles are a design that has resonated with humans over thousands of years.  Originating in the Indus region of South Asia about 5,000 years ago, the bangle may date back even farther.  A 40,000 year old bangle-like stone bracelet was discovered in Siberia and thought to have been worn by an early species of human.  
So, while bangles may be a trend this year, they are truly a timeless accessory.  
Bangles look lovely & elegant on their own and look fabulous stacked up.  Style your stack by mixing and matching silver & gold, and different textures.  
Each of our bangles is forged and textured by hand, connecting you to the hand of the maker and echoing history itself.
4) HEART JEWELLERY
Heart jewellery symbolizes love, affection and friendship and makes the perfect gift for a loved one, whether a partner, parent, child or bestie.   When bought for oneself it can also denote a commitment to self-care & self-love.  These sentiments make heart jewellery timeless (& not just for Valentine's Day). 
In fact, some of the first known examples of heart shaped jewels date back to the 15th century!  
While you will likely be seeing more heart jewellery this year, this motif isn't going anywhere.  
5) BIG PEARLS
"You can't ever go wrong with pearls. Perhaps pearls are a girl's best friend after all."
                                                         – Ki Hackney (founder of Style magazine)
Pearls are an easy way to add a hint of elegance to any outfit, from jeans and a tee to a little black cocktail dress.  Pearls come in a wide range of sizes and shapes and this year, the bigger, the better.   Go glam with a gorgeous pair of lustrous Biwa Stick Pearl Drop Earrings, a pair of Coin Pearl Earrings or elevate your look with a single focal piece like our Mabe Pearl Statement Necklace.
However you wear them, you will always look fabulous in pearls!
Read about pearl types, pearl care, and how to distinguish a fake pearl in our blog:  All About Pearls: June's Classic Birthstone
6) BIG GEMSTONE STATEMENT PIECES
Well doesn't this trend just make my li'l old heart sing!   I adore making one of a kind gemstone jewellery. I'm like a kid in a candy store when I go gemstone shopping.  And transforming these natural beauties into wearable art is one of my absolute favourite things to do in life.  
We've seen smaller, more delicate jewellery pieces trending for quite a while and now it's time for bigger, more colourful jewellery.  Perhaps we all just need to inject some bright, happy colour into our lives after making it through the last several years.
Gemstone statement pieces are an excellent way to express your personal style.  How to choose a statement piece?  Find something that speaks to you in terms of colour, shape and design and consider what you might be wearing with the piece.  
Statement necklaces make a great focal piece, so a more neutral clothing palette might work best with these.   Consider the neckline as well.   Necklines that sit well above or well below a statement necklace are best so that the neckline doesn't compete with the necklace itself.
Big statement earrings look fantastic with short hair or with your hair up.  Try wearing a matching or complimentary coloured outfit to the gemstone(s).   If you're going for big statement earrings consider wearing them with a less bold necklace.
A statement ring is one of my favourite things to make and to wear.   You can wear these with other rings, in different metals, gemstone colours and textures for an eclectic look or wear them singly on their own.   A statement ring should still be comfortable to wear.
Chunky statement bracelets and stacked bangles will also be making appearances this year.   Go bold with your stacks and mix and match chain style bracelets with bangles for an opulent look.
When you are wearing something that you connect with and that makes you feel special, you truly shine.  And when you feel your best, you can do amazing things!  
7) WEAR WHATEVER MAKES YOU FEEL HAPPY, SPECIAL AND BEAUTIFUL
"I inherited it from my mother. It's actually not meant for a male to wear -- but I don't give a damn."
                                                         -Sam Shakusky from Moonrise Kingdom