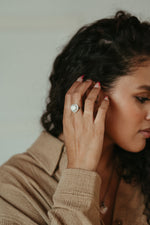 Fallen in love with a ring but aren't sure what your size is?  
In this quick & easy guide we'll show you how to find your perfect ring size, from home!
Or use our quick & easy adjustable ring gauge to find your size. 
Keep this handy tool to use over & over to find all your ring sizes! 
This ring gauge comes with a $10 gift card to spend on any ring in the store!
We want to make sure your Mikel Grant Jewellery rings fit perfectly so you can wear them all the time!  So here's a few tips in addition to our guide: 
TIPS FOR FINDING YOUR CORRECT SIZE
1) Measure each finger individually.
2) It's normal for your fingers to change size depending on the temperature & throughout the day.  Measure your finger 3-4 times during the day & note all the sizes.  Select a size that's somewhere in the middle, ensuring your ring will fit comfortably.
3) If your knuckle is bigger than the base of your finger, measure the widest point as well as the base of your finger and choose a size that is in between both.
4) When using a string or paper to measure your finger, it shouldn't be too tight or too loose.  A comfortably snug fit is ideal.
5) Be as exact as possible with your measurement.  Even a mm can make a difference in sizing.
6) If you have a current ring that fits you can measure the inside diameter and use that to find your ring size.
Found your perfect size?