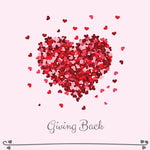 We know that giving back & creating a kinder world is just as important to you as it is to us.   It's important to us to donate our time & money to support our community & beyond when when we are able to.  This year we asked Amber, one of our favourite supporters, if she would like to choose which charitable organization we would donate to this time around.  
Amber had recently purchased a Hearts Embrace necklace for a friend going through a challenging time. We were inspired by her kindness & asked her to choose an organization close to her heart. 
Amber chose Autumn Services, a seniors/community centre that supports the population of Fraser Lake, BC.
So, from Feb.15 till March 15, 2021 we will donate 10% of every purchase from our website to Autumn Services. 
Here's why Amber chose Autumn Services:
"I truly believe the centre is what kept my dad going after the unexpected passing of my mum this fall.  With the pandemic restrictions, I don't know how I would have coped with him being all alone and grieving once I had to return to Vancouver - but within a few short days of being there, I knew he was in good hands.  They took him under their wing, focusing on keeping him connected, helping him age in place and ensuring that despite the pandemic related isolation, that he wasn't isolated.  They went well and truly above and beyond and really restored my faith in humanity.  One of the workers there took my parents' dog in when they were no longer able to care for him, and actually brought the dog to my mum's hospital room window so she could see him - the photo of that day will forever be with me,  and it just goes to show how truly spectacular and special the Autumn Services team is.

The centre not only provides friendship, and wellness, they provide meals, rides (there are no taxis or busses and in winter, it is often -30), take people to medical appointments (it takes over 90 minutes to drive to Prince George where all the services are), deliver care packages, provide internet/computer access, help with government forms etc .... they do it all.  I have literally broken down in tears multiple times over the past few months over hearing about the amazing things they've done for my dad and the community.  But, unfortunately, their funding often runs out long before the need does.  Despite being locked down under the current restrictions, they've been able to still go door to door making sure seniors and vulnerable people are taken care of."
We are inspired by stories of kindness, compassion & generosity like these & delighted to be able to help out in some small way.  
So, if you've been hanging onto something in your cart or mulling over your wishlist, now is a great time to check out knowing that your purchase will be giving back!  

Of course, you can always send a donation straight to Autumn Services as well.
With gratitude,
Mikel & Kelly 💗