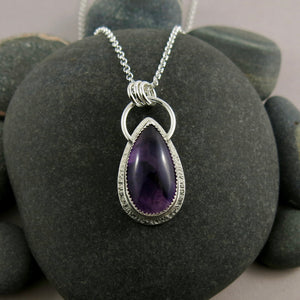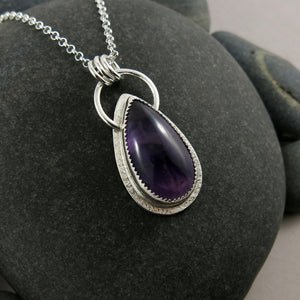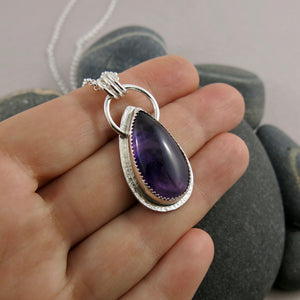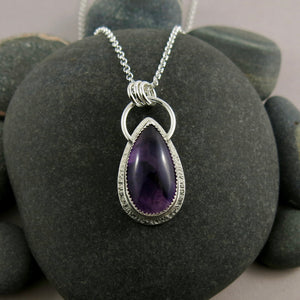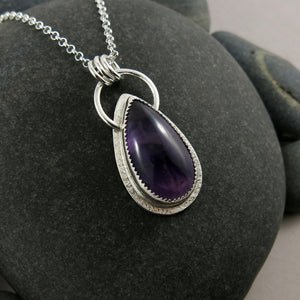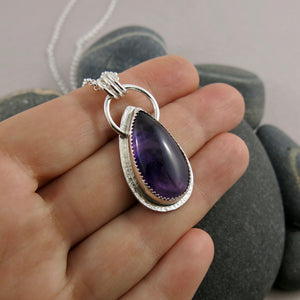 On Sale
Trapiche Amethyst Teadrop Necklace • Sterling Silver
Be drawn in by the captivating beauty of this Trapiche Amethyst teardrop necklace. Handcrafted from sterling silver, its subtly textured frame and serrated bezel provide a stunning contrast to the dreamy amethyst stone. Could this be your perfect statement piece?
Trapiche amethyst, also known as atomic amethyst, has a gorgeous mix of purples with darker violet bands within the lighter lavender crystal.
Amethyst is the birthstone for February.
Product Details:
•This necklace is ready to ship.  Will ship within 3 business days of ordering.
•Made with sterling silver, fine silver and natural amethyst.
•Pendant measures ~1.5" tall X 3/4" wide.
•Chain is 18" in length.  If you would prefer a 16" or 20" chain please leave a note in the box at checkout.